The Effects of Gamma Rays on Man-in-the Moon Marigolds
TILLIE: (deathly afraid and referring to her cards) The past:
The seeds were exposed to various degrees … of gamma rays from radiation sources in Oak Ridge … Mr. Goodman helped me pay for the seeds … Their growth was plotted against … time.
She loses her voice for a moment and then the first gong sounds.
TILLIE: The present:
The seeds which received little radiation have grown to plants which are normal in appearance. The seeds which received moderate radiation gave rise to mutations such as double blooms, giant stems and variegated leaves. The seeds closest to the gamma source were killed or yielded dwarf plants.
The second gong rings.
TILLIE: The Future:
After radiation is better understood, a day will come when the power from exploding atoms will change the whole world we know.
With inspiration.
Some of the mutations will be good ones—wonderful things beyond our dreams—and I believe, I believe this with all my heart, THE DAY WILL COME WHEN MANKIND WILL THANK GOD FOR THE STRANGE AND BEAUTIFUL ENERGY FROM THE ATOM.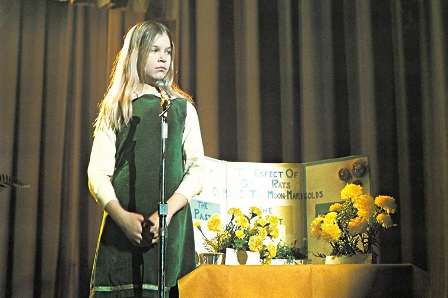 Paul Zindel's play is still widely performed, but it is often forgotten that the Man-in-the-Moon Marigolds aren't just a clever plot device.  The marketing effort for the atom-blasted seeds included advertisements in educational publications that promoted kits specially designed for science fairs.
https://www.fishersci.com/shop/products/environmental-ecology-seed-kit/s19430
http://www.carolina.com/browse/product-search-results?Ntt=irradiated+seeds&Nr=OR%28product.type%3AProduct%29&tab=p&question=irradiated+seeds&searchExecByFormSubmit=true
https://www.amazon.com/Marigold-Irradiated-Seed-Set-Packs/dp/B005P0ENGC
https://www.researchgate.net/figure/286036037_fig1_Figure-1-Effect-of-seed-X-rays-irradiation-on-the-germination-percentage-of-date-palm